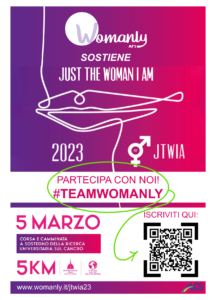 SOSTIENI LA RICERCA. PARTECIPA CON NOI! ISCRIVITI ALLA JUST THE WOMAN I AM 2023 #TeamWomanly
Womanly APS sostiene anche quest'anno la Ricerca Universitaria sul Cancro partecipando alla Just The Woman I Am 2023.
Unisciti al #TeamWomanly entro il 7 Febbraio e prendi parte alla corsa o alla camminata non competitiva seguendo le seguenti indicazioni:
Effettua il bonifico per l'iscrizione
INTESTATARIO: ASD CUS TORINO
IBAN: IT73Q0313801000000013275318 – Banca Reale
CAUSALE: iscrizione team "Womanly" di "nome e cognome" (partecipante)
SALVA LA CONTABILE
La quota di partecipazione prevista è a offerta libera a partire da €20,00
Comprende maglietta, welcome bag, pettorale personalizzato.
CLICCA SUL TASTO ROSA
Inserisci tutti i dati richiesti, allegando la contabile del versamento appena effettuato.
(Attenzione: il modulo d'iscrizione online con i dati non parte in assenza dell'allegato).
Se preferisci pagare in contanti la tua quota di partecipazione puoi scriverci all'indirizzo e-mail: eventi@womanly.it